Our research focusses on the following areas
Analysis of natural compounds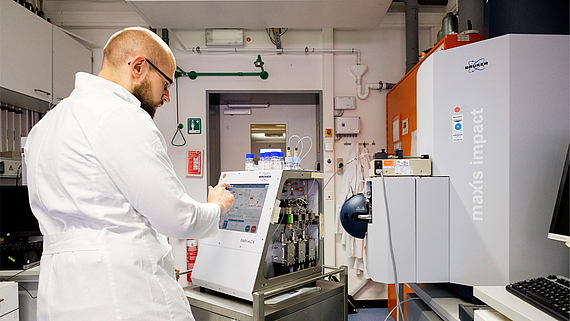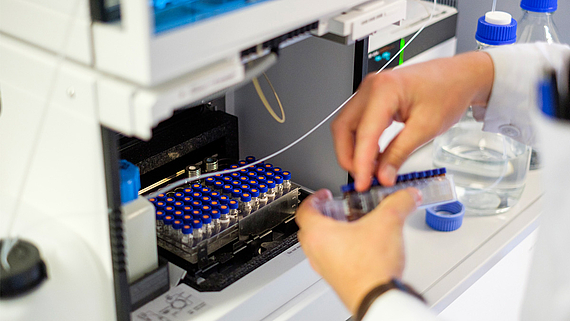 Chromatographic, spectrophotometric and electrophoretic methods generally used for the analysis of food are also used to determine the metabolic processes of cells and characterize the specificities of enzymes. The spectrum of analyzed compounds range from small food contaminants to valuable ingredients like flavour compounds, vitamins and dyes to larger metabolites like the cobalamines ( B12 vitamines) up to large proteins like enzymes.
Problems in the analysis of volatile compounds (formation of foam and emulsions, unfavourable partition coefficients) are solved by solid-phase extraction from a liquid or gaseous (headspace) matrix followed by thermal desorption-gas chromatography with olfactometric and mass spectrometric detection. Non-volatile metabolites are derivatized or analyzed through liquid chromatography. LC-MS/MS and the corresponding ionization and collision variants enable identification and quantification of compounds. Proteom analyses are performed after one and two dimensional electrophoresis with a nLC-ESI-QTOF-MS/MS followed by bioinformatic evaluation. These multifaceted instruments are the methodological foundation for the following three areas of our research.
Biotechnology with basidiomycetes and algae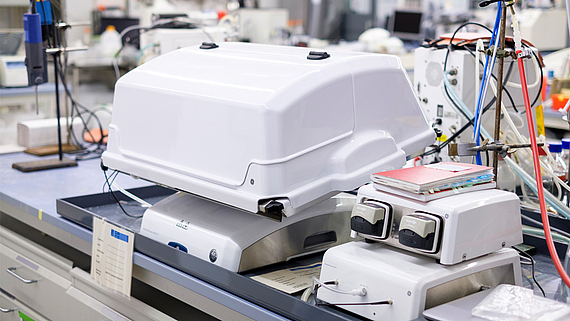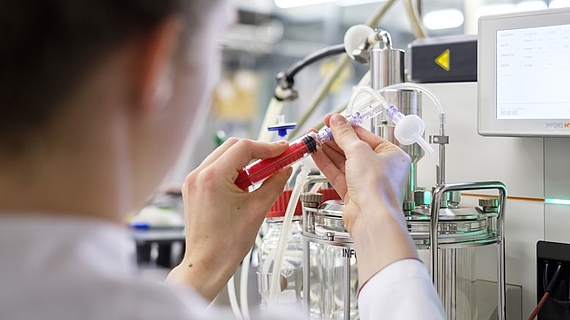 The elucidation and utilization of the metabolic potential of basidiomycetes is one of the main research areas of the institute. Along the ascomycetes, they belong to the "higher fungi" and containg about 30,000 species or 30 % of all know fungi. Cell cultures of these complex microorganisms form various terpenoid or phenolic compounds either through de novo synthesis or biotransformation of suitable precursors. They grow especially well in the presende of side streams of the agroindustry like peel, bran or pomace.
Recently, the institute has begun researching the use of different microalgae. These marine organisms are already used as food or nutrional supplements. Among other compounds, they contain Vitamin B12 and add to the vitamin supply on a vegetarian or vegan diet. Addtionally, they are a valuable protein source and can form industrially relevant terpenes.
The usage of high volume sidestreams of the food and agroindustry enables the substitution of expensive components for the growth media. Furthermore, these sidestreams often have an inducing effect on the formation of the desired products.
Basidiomycetes and algae: Current research topics
New enzymes for the food industry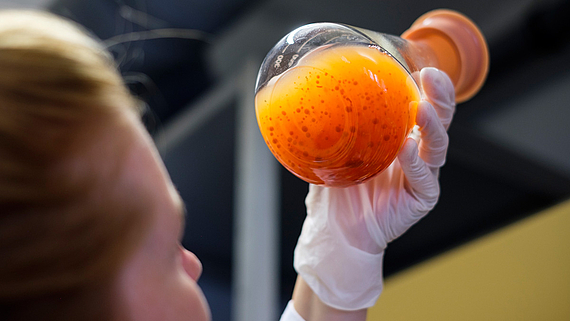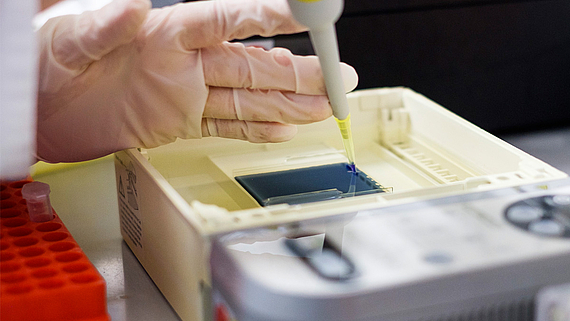 Basidiomycetes can grow on different substrates like wood, foliage or forest soil. In order to utilize these nutrients, they secrete a multitude of different enzymes like for example peptidases. The food industry is already using peptidases for the formation of flavour, maturation processes and for total hydrolysis on an industrial scale. Other enzymes can increase the digestibility of beverages like coffee, enable the utilization of new protein sources like canola protein or could be used for the creation of alternative food products for example for people wanting to refrain from ingesting gelatine from animal sources.
Submerse cultures of basidiomycetes can be screened for enzymes with the desired properties. After a suitable enzyme is found, the gene encoding the enzyme is often expressed in pro- or eukaryotic hosts (Escherichia coli, Komagataella, Aspergillus) to enable the targeted production of the enzyme on a larger scale.
New enzymes: Current research topics
Biotechnology of flavour compounds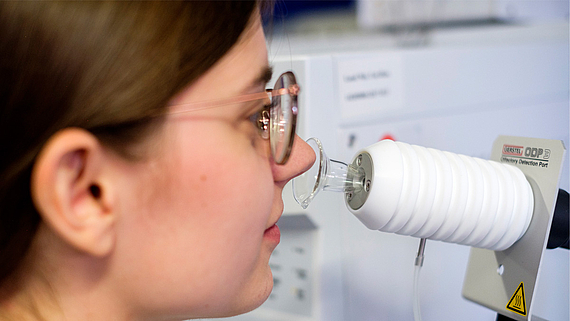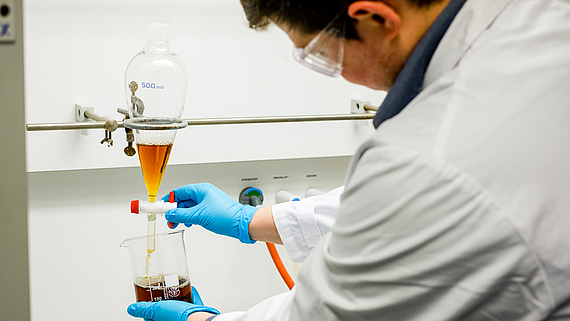 Basidiomycetes produce a wide spectrum of volatile compounds and are suitable both for the production of known flavour compounds and the identification of new ones as well. With the help of techniques like the olfactometric GC-MS, the volatilom of cultivated fungi can be characterized and key flavour compounds identified. In order to elucidate unknown biosynthesis routes, experiments with labeled precursor compounds are performed.
Microbial systems produce flavour compounds with the desired attribute "natural". Furthermore, bioprocesses with cell cultures or enzymes have significant advantages over conventional chemosynthesis. Selective and specific one pot reactions under mild conditions lead to the desired product. Omission of heavy metals and flammable side compounds as well as the use of renewable ressource lead to a higher ecological compatibility.
Flavour compounds: Current research topics
Flavour compounds from cell cultures

Basidiomycetes produce a wide product spectrum of volatile compounds and thus contain an enormous potential for the identification of new flavor compounds. An example is the recently identified natural compound (5E/Z,7Z,9)-Decatrien-2-on which is a polyketide possessing an intense pineapple-like flavor. Since biotechnologically produced flavor compounds are deemed "natural" by the laws of the EU, they are highly valued by the market.

Sustainable utilization of vanilla

Rising demands and multiple crises in the producing countries have caused a shortage in the supply of vanilla pods. Even though the capsule of the vanilla pod is rich in flavoring substances, it is often not utilized due to its hard texture. Using the enzymes of higher fungi (Basidiomycota), we are aiming to produce natural flavor extracts from the entire vanilla pod in order to utilize this valuable resource in a sustainable way.

Smoke flavour without fire

Smoking is a technique that is used in many foods for conservation and flavoring. However, the used smoke not only contains flavoring substances but also potentially cancerous polycyclic aromatic hydrocarbons, aromatic amines, cresols and others. Our work focuses on the replacement of the classic pyrolysis of wood by using an enzyme cascade producing the safe and chemically pure key flavor compound of smoke.